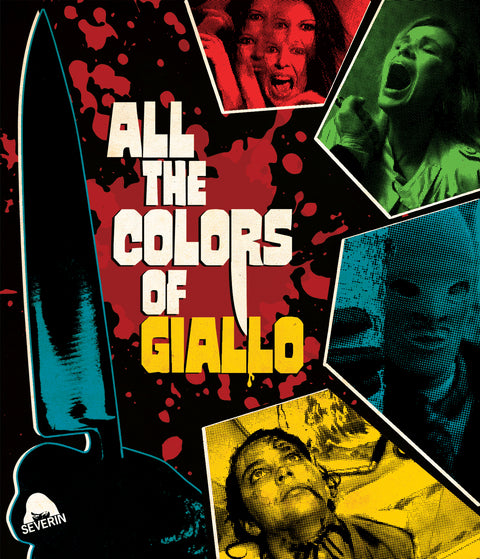 'Giallo' is Italian for 'yellow', the color of the lurid pulp novels that inspired one of the most intense, extreme and influential genres in movie history. In this unprecedented collection, experience the full chronological evolution of giallo with more than 100 rare and classic trailers from such masters as Mario Bava, Dario Argento, Lucio Fulci, Sergio Martino, Antonio Margheriti, Umberto Lenzi and many more. Then slip on black leather gloves and set the mood with a Bonus CD of legendary soundtrack music from composers that include Ennio Morricone, Riz Ortolani, Bruno Nicolai, Stelvio Cipriani and others, along with all-new featurettes that thrust even deeper into the genre. "But be warned," says Gizmodo.com, "once you start going down the blood-slicked giallo rabbit hole, you may become dangerously obsessed."
Special Features:
DISC 1 - Blu-ray
All the Colors of Giallo: A New Feature Length Documentary By Federico Caddeo
The Giallo Frames: Interview With John Martin, Editor Of The Giallo Pages
Audio Commentary with Kat Ellinger, Author of All The Colors Of Sergio Martino
DISC 2 - DVD: The Case of the Krimi
Kriminal!: Trailer Compilation
The Case Of The Krimi: Interview With Film Historian Marcus Stiglegger
DISC 3 - CD
The Strange Sounds Of The Bloodstained Films: Compiled By Alfonso Carillo of Rendezvous! From The Archives Of Beat Records. Remastered By Claudio Fuiano.
All the Colors of Giallo Disc Specs:
Aspect ratio: 1.78:1
Audio: English Mono
English Subtitles (on Italian)
Region Free
Run time:

239 mins
Buy the Blu-ray
---