Black Emmanuelle/White Emmanuelle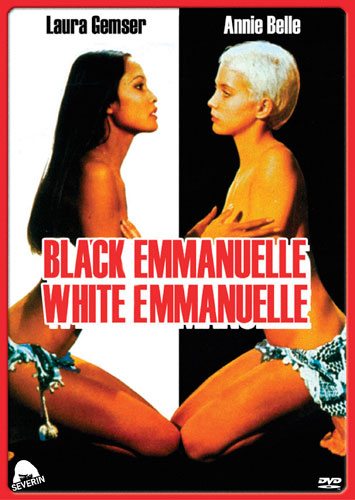 OUT OF PRINT
From the Oscar® Nominated Screenwriter Of
LA DOLCE VITA and 8½ —
Now Uncut & Uncensored With
Footage Never Before Seen In America!
It's the ultimate meeting of the Emmanuelles as Laura Gemser comes together with Annie Belle of Laurefame for an eye-popping coupling of EuroErotica goddesses. In this desert paradise of pleasure and pain, a glamorous fashion model (Gemser) and a free-spirited beauty (Belle) surrender themselves to complete sexual ecstasy. But will an unhinged holy man (Al Cliver of Zombie and The Beyond) now lead these new lovers – as well as their friends and even family members – into the most shockingly immoral acts imaginable?
Susan Scott (Death Walks On High Heels),Gabriele Tinti (Emanuelle In America) and Feodor Chaliapin(Moonstruck) co-star in this rarely-seen scorcher – also known asSmooth Velvet,Raw Silk andEmanuelle In Egypt– written and directed by long-time Fellini collaboratorBrunello Rondi.
EXTRAS:
• Black Velvet – Interviews with Stars Annie Belle and Al Cliver
• Theatrical Trailer
---