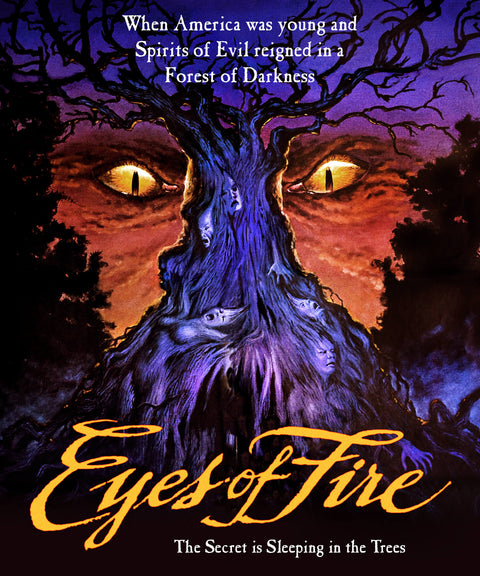 EYES OF FIRE
Avery Crounse, USA, 1983
86 mins | 1.85:1 | Color | Region Free
English Mono / Closed Captions
4K restoration from the original negative
The seminal American folk horror film, unavailable on home video for decades, now debuts in a new 4K restoration. A rogue 18th century preacher and his followers make their way downriver to establish a new settlement beyond the western frontier and encounter a forest enchanted by strange spirits that will bring an apocalyptic madness upon them.
Extras:
Audio Commentary With Colin Dickey, Author of "Ghostland: An American History In Haunted Places"
The Secret Is In The Trees — "Nightmare USA" Author Stephen Thrower Interviews Avery Crounse (29 mins)
Crying Blue Sky Alternate Longer Cut restored in 2K from Director's personal 35mm answer print>
Plus Bonus Short Films:
The Legend Of Sleepy Hollow (Sam Weiss, USA 1972) (13 mins)
Genre icon John Carradine narrates this atmospheric animated adaptation of Washington Irving's classic story, newly scanned from 16mm for this release by educational film archive AV Geeks. Courtesy of Pyramid Films.
Transformations (Barbara Hirschfeld, USA 1972) (8.5 mins)
A fascinating feminist experimental film shot on location in Vermont about a group of witches performing white magic. Courtesy of the Vermont Archive Movie Project (VAMP). vamp.vtiff.org
Backwoods (Ryan Mackfall, UK 2018) (15 mins)
A scholar drifts from his path and finds himself in a house he takes for deserted. Based on H.P. Lovecraft's "The Picture In The House." Courtesy of Myskatonic Films.
Buy the Blu-ray
---