Lady Libertine/ Love Circles Blu-ray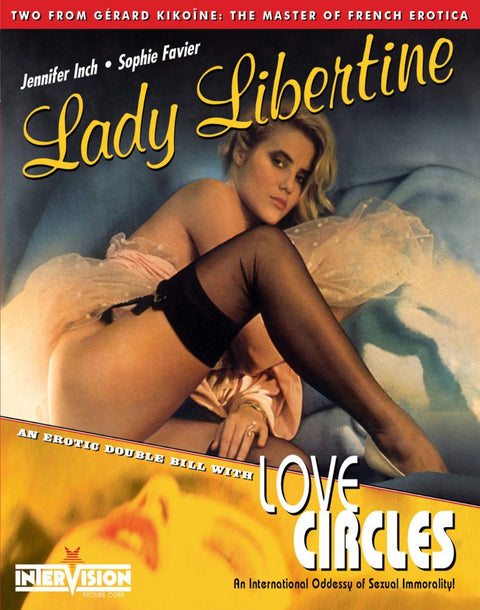 Two feature films from France's master of erotica, Gérard Kikoïne
LADY LIBERTINE – THE INFAMOUS EROTIC SAGA AN ASHAMED STAR TRIED TO STOP!
Famed French TV game show hostess Sophie Favier stars in this boldly sexy epic about a cross-dressing teenage orphan named 'Frank' who is adopted by a handsome nobleman with his own strange urges. But when the sultry virgin's gender-bend is revealed, her deflowering unleashes a shocking torrent of voyeurism, violation, sadism and submission that will blur the line between pleasure and pain forever!
This 1984 Playboy production ignited an international controversy when Sophie Favier unsuccessfully sued to stop its long awaited re-release. Her court loss is a victory for Skinemax fans everywhere!
LOVE CIRCLES – AN INTERNATIONAL ODYSSEY OF SEXUAL IMMORALITY!
From Paris to Rome, Cannes to Hong Kong, and Los Angeles to New York City, the true universal language is lust! In this decadent update of the scandalous classic LA RONDE, a bevy of international beauties complete a chain of liaisons where every urge is fulfilled and no taboo is left unbroken. Will it take more than one man to satisfy a nymphomaniac's voracious needs? How does a single oiled body trigger an unstoppable steam room orgy? What is the ultimate act of love between sisters?
Buy the Blu-ray




---