Naughty! Naughty! Naughty!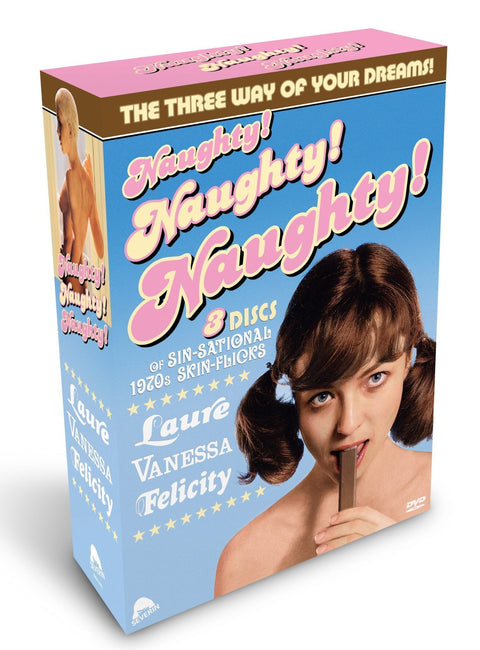 LAURE/ VANESSA/ FELICITY
LAURE- Her tantalizing memoir shocked the world. Its infamous film adaptation changed X-rated cinema forever. Now for the first time, Emmanuelle Arsan – the real Emmanuelle – brings her own lush vision of total sexual abandon to the screen as writer, director and co-star of this rarely seen erotic classic. The succulent Annie Belle (of House On The Edge Of The Park and Black Emmanuelle/White Emmanuelle fame) stars as Laure, a free-spirited young woman whose bold philosophy of pleasure enflames the passions of every man and woman she encounters in the steamy city of Manila. But when she's invited to join a deep jungle expedition with a hunky filmmaker (Al Cliver of Zombie and The Beyond) and a beautiful anthropologist (Arsan), Laure discovers that no sexual hunger can ever be truly forbidden. Can one woman's insatiable lust create a new dimension of love, or will her complete carnal surrender to a strange native tribe lead to the most shocking act of all?
VANESSA- "Where Emmanuelle ended," the original ads panted, "Vanessa begins!" The tantalizing Olivia Pascal of Bloody Moon and Island Of 1000 Delights stars as the titular teen who journeys from curious convent virgin to prisoner of a lavish Hong Kong bordello. But along the way, she'll experience the sensual and shocking extremes of pleasure, pain and even black magic perversion. In a world where respectable men and women have gone mad with greed and lust, can one succulent young girl escape her family's ultimate legacy of depravity? Eva Garden (Virgin Report), Astrid Boner (Schoolgirl Report) and Anton Diffring (Mark Of The Devil II, Faceless) co-star in this eye-popping flesh-fest, now fully restored and featuring some of the most talked-about scenes in European softcore history!
FELICITY- She ain't mama's little girl no more! The luscious Glory Annen stars as Felicity Robinson, a sheltered teen who surrenders her blossoming body to a world of bold sexual adventure. From her forbidden pleasures at an all-girl school in England to wanton hungers in the exotic underground of Hong Kong, Felicity finds herself deflowered, defiled and ultimately delighted by the shame and ecstasy of a libido unleashed. Penthouse model Joni Flynn co-stars in this notorious erotic odyssey that defined a generation of horny young men…and quite a few women, too!
LAURE- EXTRAS: • Emmanuelle Revealed – Interview with Producer Ovidio Assonitis • Audio interview with Star Annie Belle • Interview with Star Al Cliver • Theatrical Trailer
VANESSA- EXTRAS: • High Life In Hong Kong – Interviews with Director Hubert Frank and Director of Photography Franz X. Lederle • Vanessa Revealed – Intimate Behind-the-Scenes Featurette • Theatrical Trailer
FELICITY- EXTRAS: • Audio Commentary with Director John Lamond and Star Glory Annen • Theatrical Trailer • Intimate Still Gallery
---