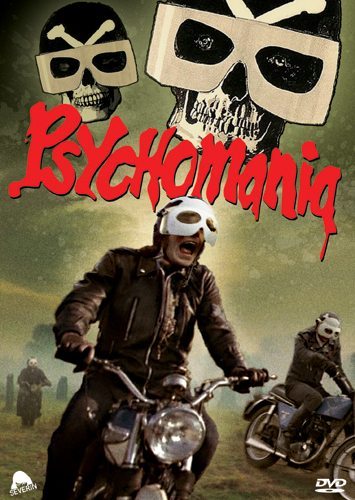 "THE GROOVIEST ZOMBIE
BIKER MOVIE OF THEM ALL!
Cinesploitation
The cult classic known as 'the greatest British zombie biker movie ever made' returns with the ultimate full-throttle restoration: Nicky Henson (Witchfinder General), Beryl Reid (The Beast In The Cellar) and Oscar® winner George Sanders (All About Eve, Village Of The Damned) star in this beloved '70s mind-blower about a motorcycle gang who burst from their graves to crush a world of psychedelic hippie pleasures under the wheels of black leather occult mayhem. You've got to believe it's come back: Psychomania – from veteran horror director Don Sharp (Kiss Of The Vampire), the blacklisted Hollywood screenwriters of Horror Express, and featuring some of the wildest cycle stunts of the decade – has now been restored from the only uncut 35mm print in existence and packed with new Bonus Features produced exclusively for this edition.
EXTRAS:
• Return Of The Living Dead: Interviews with stars Nicky Henson, Mary Larkin, Denis Gilmore, Roy Holder and Rocky Taylor
• Sound Of Psychomania: Interview with Soundtrack composer John Cameron
• Riding Free: Interview with Riding Free singer Harvey Andrews
• Introduction by Fangoria Editor in Chief Chris Alexander
• Original Theatrical Trailer
---