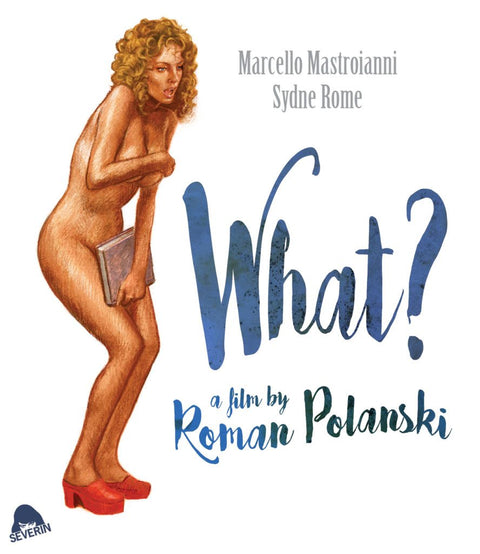 Roman Polanski's rare 70s Sex Comedy WHAT?
On Blu-Ray From Severin
Los Angeles, March 11th 2016 – The film Polanski made between MACBETH and CHINATOWN, WHAT? will be released on Blu-ray — with a new 2k scan of the feature plus a host of extras — on April 26th.
The director described it as "the ribald adventures of an innocent girl." Critics called it "an amoral, depraved disaster." More than three decades after its controversial release, it remains the most butchered, debated and least-seen film of the Oscar-winning director's entire career. The succulent Sydne Rome stars as an oft-naked American girl lost inside a Mediterranean villa inhabited by priests, pianists, perverts and a syphilitic pimp (a deliciously bizarre performance by Marcello Mastroianni) while indulging in madcap acts of gang rape, sodomy and ping-pong. Hugh Griffith (Tom Jones), Romolo Valli (Boccaccio '70) and Polanski himself co-star in this surreal and sexy comedy, now finally restored to its original running time from a vault print reportedly stolen from the wine cellar of producer Carlo Ponti!
WHAT?
110 mins. / 2.35:1
Release Date: April 26th
RRP: BD-50 $29.95
Special Features:
Featurette: Sydne In Wonderland – Interview With Star Sydne Rome
Featurette: Memories Of A Young Pianist – Interview With Composer Claudio Gizzi
Featurette: A Surreal Pop Movie – Interview With Cinematographer Marcello Gatti
Theatrical Trailer
Buy the Blu-ray
---