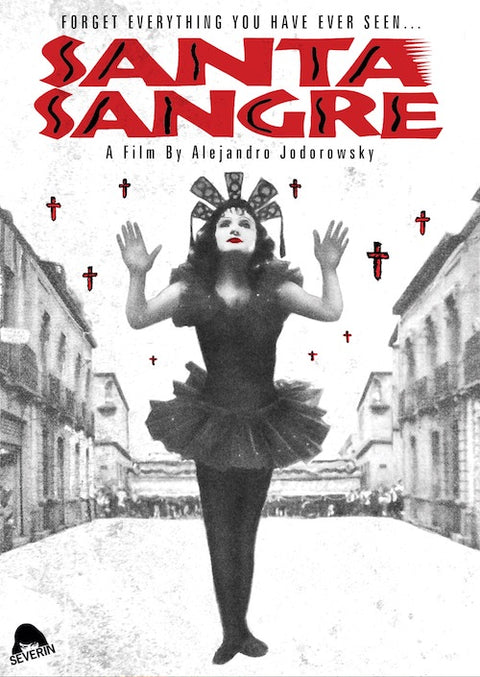 "A movie like none I have ever seen before.
Santa Sangre is a film in which the inner
chambers of the soul are laid bare."
Roger Ebert, Chicago Sun Times
In the 1970s, his legendary films El Topo and The Holy Mountain redefined movies as both art and entertainment while changing the face of cinema forever. And in 1989, visionary writer/director Alejandro Jodorowsky returned with his modern masterpiece: It is the story a young circus performer, the crime of passion that shatters his soul, and the macabre journey back to the world of his armless mother, deaf-mute lover, and murder. It is an odyssey of ecstasy and anguish, belief and blasphemy, beauty and madness. It is unlike any movie you have seen before…or ever will. Axel Jodorowsky, Blanca Guerra and Guy Stockwell star in this epic of surreal genius, now fully restored and featuring more than five hours of exclusive Extras that reveal the mind behind one of the most provocative and unforgettable motion pictures experiences of our time.
EXTRAS:
• Forget Everything You Have Ever Seen: The World Of Santa Sangre: Exclusive Feature Length Making-Of Documentary Featuring All-New Interviews with Director/Co-Writer Alejandro Jodorowsky, Stars Cristobal Jodorowsky, Adan Jodorowsky, Blanca Guerra, Thelma Tixou, Sabrina Dennison, Elenka Tapia & Teo Tapia, Co-Writer Roberto Leoni, Soundtrack Composer Simon Boswell and Tattoo Designer Sergio Arau.
• Audio Commentary with Jodorowsky and Journalist Alan Jones
• Deleted Scenes with Director Commentary
• For One Week Only: Alejandro Jodorowsky: Channel X Produced 1990 British Documentary Featuring Interviews with Jodorowsky, Dennis Hopper, Marcel Marceau, Moebius, Omar Sharif, and others
• Goyo Cárdenas Spree Killer: Documentary on the Real Life Inspiration For Santa Sangre
• On Stage Q&A With Jodorowsky
• Jodorowsky 2003 Interview
• Simon Boswell Interviews Jodorowsky
• Blink Jodorowsky Short by Simon Boswell
• "Close Your Eyes" Simon Boswell Music Video
• Echeck Adan Jodorowsky Short Film With Optional Commentary
• Theatrical and Japanese Trailer
• English, Italian and Spanish Language Tracks
• Closed Captions for the Hearing Impaired
Buy the LE 4K UHD Edition
Buy the 2-Disc Blu-ray
Rent on VOD:
---