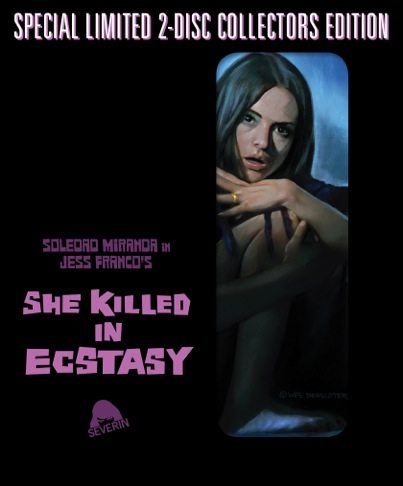 What are often cited as the finest works of Euro-cult master Jess Franco's labyrinthine career are his 1971 erotic horrors VAMPYROS LESBOS and SHE KILLED IN ECSTASY. Now, for the first time ever in America, the fully restored, uncensored versions will be available in 2 Disc Limited Special Editions. Both films star the bewitching beauty Soledad Miranda, who was tragically killed before either film was released. Full specs on these Special Editions, including a pair of Franco's final inimitably colorful interviews as well as a new featurette on Soledad containing rare clips, stills and music, and the super rare 24 track soundtrack with music by Sigi Schwab and Manfred Hubler, are as follows:
Disc 1 (Blu-Ray):
Newly remastered HD presentation of the feature in its original 1.66:1 aspect ratio
Jess Killed In Ecstasy: Interview with Director Jess Franco
Sublime Soledad: Interview with Soledad Miranda Historian Amy Brown
Stephen Thrower on She Killed in Ecstasy: Interview with Author of 'Murderous Passions – The Delirious Cinema Of Jess Franco'
Paul Muller On Jess Franco: Interview with the frequent Franco Star
German Trailer
Disc 2 (CD):
Original Motion Picture Soundtracks
3 Films By Jess Franco: Vampyros Lesbos/She Killed In Ecstasy/The Devil Came From Akasava
Repressing of the ultra rare 24 track CD
Specially packaged in dye cut slip case. Newly created cover art by Wes Benscoter.
Buy the Blu-ray
Rent on VOD:
---