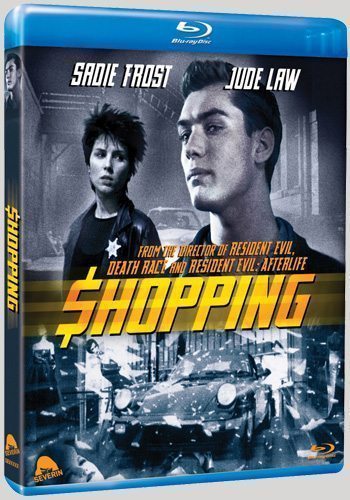 "A MOODY, STYLISH, NOIRISH ROMP…
THE ACTION SEQUENCES ARE HOT!"
New York Newsday
The British police called it 'ram-raiding'. Teenage hooligans called it 'shopping'. And audiences and critics worldwide called it one of the most shocking debuts of the decade: In a bleak near-future, charming ex-con Billy (Oscar® nominee Jude Law in his first movie role) and sexy girlfriend Jo (Sadie Frost of Bram Stoker's Dracula) live for stealing fast cars, leading cops on high-speed chases, and crashing through posh store windows to steal everything they can grab. But when the law and a rival gang both vow to end their spree, can Billy and Jo pull off one final raid before their world comes crashing down? Sean Bean (The Lord Of The Rings), Jonathan Pryce (Brazil), Sean Pertwee (Dog Soldiers) and '60s icon Marianne Faithful star in this reckless orgy of destruction – censored for 15+ years by British authorities – from writer/director Paul W.S. Anderson (Alien Vs. Predator, Death Race, Resident Evil: Afterlife) that hotwired the U.K. crime-movie explosion of the late '90s.
EXTRAS:
• Audio Commentary with Director Paul W.S. Anderson and Producer Jeremy Bolt
• Featurette with Paul W.S. Anderson and Jeremy Bolt
• EPK Featuring Interviews with Jude Law, Sadie Frost, and Paul W.S. Anderson
• Theatrical Trailer
• Severin Trailers
---