The Lucio Fulci Collection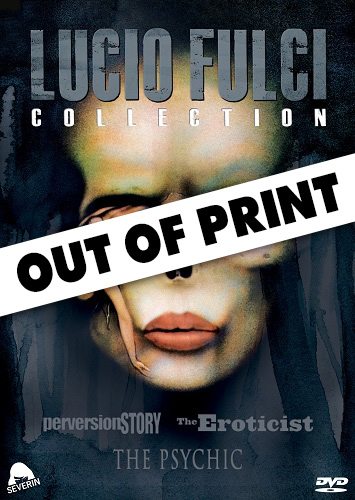 OUT OF PRINT
Perversion Story: In a controversial career that flayed every envelope of cinematic excess, nothing can prepare you for this stunning thriller from the infamous director of Zombie, and The Beyond. Jean Sorel (Belle De Jour) stars as an arrogant San Francisco doctor trapped between his sultry mistress (Elsa Martinelli of Blood And Roses) and an amoral stripper (Marisa Mell of Danger: Diabolik) who bears an uncanny resemblance to his recently deceased and possibly murdered wife. What follows has been called Fulci's first true masterpiece, where sexual obsession, cruel deception and depraved murder all come together in one unforgettable Perversion Story.
John Ireland and Faith Domergue co-star in this gripping giallo – also known as One On Top Of The Other – that features eye-popping nudity, provocative locations (including the gas chamber at San Quentin) and a badass jazz score by Riz Ortolani (Mondo Cane, Kill Bill). Severin Films is proud to present Perversion Story in a startling new high definition transfer from the original vault negative thought to be lost for more than 35 years!
The Eroticist: For the legendary director of Zombie, The Beyond and Perversion Story it was perhaps the most shocking film of his entire career: A blasphemous yet acclaimed erotic comedy bursting with depraved priests, luscious nuns, and a possessed politician with a compulsion for perversion. Laura Antonelli (The Divine Nymph), Agostina Belli (The Fifth Cord), Lando Buzzabca (When Women Had Tails), Anita Strindberg (Lizard In A Woman's Skin), and Lionel Stander (Cul-De-Sac) star in the surreal '70s flesh-fest that could only come from the immoral imagination of Lucio Fulci!
Severin Films is proud to present this sacrilegious sexcapade – also known as The Senator Likes Women – now fully restored from elements recently discovered in a secret underground vault near The Vatican!
The Psychic: Shortly before he surrendered to the gory excesses of horror, Lucio Fulci – the notorious director of Zombie and Perversion Story – crafted one last brilliant thriller with a killer twist. Jennifer O'Neill (Scanners) stars as a clairvoyant tormented by visions of a violent murder. But will her own investigation into the crime lead to the most shocking discovery of all? Marc Porel (Don't Torture A Duckling) and Evelyn Stewart (The Whip And The Body) co-star in this chilling giallo that critics and fans – including avowed devotee Quentin Tarantino – consider the most stunning of the maestro's entire career.
Released in the U.S. with several key scenes removed, The Psychic (aka Seven Notes In Black) is now presented in its fully restored European Version featuring footage never before seen in America.
EXTRAS:
Perversion Story:
• Rare Soundtrack CD With Music By Riz Ortolani
• Theatrical Trailer
The Eroticist:
• A History of Censorship – Featurette with Actor Lando Buzzanca, Cinematographer Sergio D'Offizi and Make-Up Artist Giannetto De Rossi
The Psychic:
• Voices From The Black – Featurette with Co-writer Dardano Sacchetti, Costume Designer Massimo Lentini, Editor Bruno Micheli
---