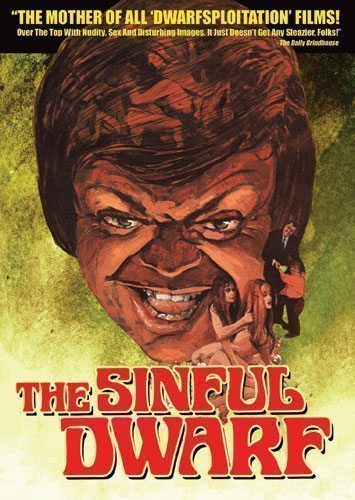 "THE MOTHER OF ALL 'DWARFSPLOITATION' FILMS!

Over The Top With Nudity, Sex & Disturbing Images.
It Just Doesn't Get Any Sleazier, Folks!"
THE DAILY GRINDHOUSE
"A young bride," promised the ads, "left alone to the lewd passions of an evil dwarf!" Severin Films is officially going to Hell – and taking you with them – with thefirst time ever in America DVD release of what may be the sleaziest film in EuroCult history: Diminutive former kiddie-show host Torben Bille – who looks disturbingly like Jack Black in a trash compactor – stars as the pint-sized pervert who imprisons drugged teenage sex slaves in the attic of his drunken mother's decrepit rooming house…and that's just the first ten minutes! The delicious Anne Sparrow – in her first and understandably only screen role – co-stars in this towering achievement in graphic depravity, now fully restored from a 35mm print discovered hidden in a janitor's closet at the Danish Film Institute!
EXTRAS:
-The Severin Controversy – Featurette on the lasting effects of The Sinful Dwarf
-Theatrical Trailer
-Radio Spots
Color
1.33:1 Full Frame
95 Mins
Dolby Digital 2.0 Mono
Region 0
Buy the Blu-ray
---