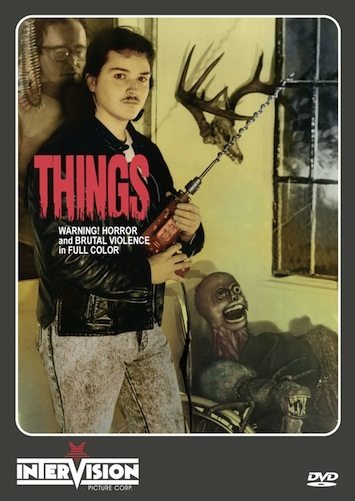 "IN A CLASS ALL BY ITSELF…

Consistently astounding as it unfolds
in all its bizarre glory,and still unlike
anything most viewers have ever seen."
Canuxploitation.com
In 1989, it became the first Canadian shot-on-Super 8 gore shocker commercially released on VHS. Today, it remains perhaps the most bizarre, depraved and mind-boggling chunk of 'Canuxploitaion' ever unleashed upon humanity. Adult film superstar Amber Lynn and co-writer/producer Barry J. Gillis star in this surreal saga about two friends who visit a remote cabin, only to discover a womb of monstrous horror that demands graphic dismemberment. It's an inexplicable orgy of eye ripping, beer guzzling, boob baring, skull drilling, sandwich making, chain sawing, bad acting and post-sync dubbing from co-writer/producer/director Andrew Jordan that has spawned its own disturbing cult of fans. Some will be repulsed. Others may be transformed forever. But you have never seen anything like Things.
EXTRAS:
• Audio Commentary With Director Andrew Jordan And Stars Barry J. Gillis, Jan W. Pachul And Doug Bunston
• Audio Viewing Party With The Cinefamily
• Testimonials On THINGS: All-New Interviews With Tobe Hooper (The Texas Chain Saw Massacre), Jason Eisener And Rob Cotterill (Hobo With A Shotgun), Canuxploitation.com Creator Paul Corupe, Joseph A. Ziemba And Dan Budnik Of Bleeding Skull, And "THINGS-ite" Joey Izzo
• Things 20th Anniversary Cast And Crew Reunion
• Behind The Scenes With Star Amber Lynn
• Vintage Barry J. Gillis TV Appearances
• Original Trailers
Buy the DVD
---