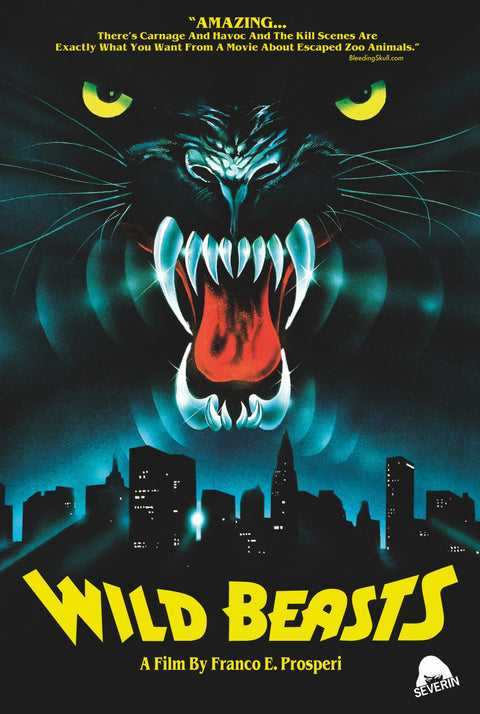 The Insane 80s Film By The Co-Creator of
MONDO CANE and GOODBYE UNCLE TOM
Remastered For The First Time Ever In America!
For his final work, Godfather Of Mondo Franco E. Prosperi took on the 'Nature Strikes Back' genre and delivered perhaps the most shocking movie of his controversial career: When PCP gets into the water supply of a city zoo, the drug-crazed beasts – including tigers, lions, cheetahs, hyenas and elephants, as well as seeing eye dogs and sewer rats – go berserk and rampage through the streets of Rome. What follows is a terrifying mix of actual animal attacks (supervised by professional circus trainers) and over-the-top '80s Italian gore that remains the greatest eco-revenge shocker in EuroCult history. Lorraine De Selle (CANNIBAL FEROX, HOUSE AT THE EDGE OF THE PARK) and Ugo Bologna (NIGHTMARE CITY) star in this disturbing urban bloodbath, now digitally remastered for the first time ever and bursting with all-new Special Features!
Special Features:
Altered Beasts: Interview With Director Franco E. Prosperi
Wild Tony: Interview With Actor Tony Di Leo
Cut After Cut: Interview With Editor & Mondo Filmmaker Mario Morra
The Circus is in Town: Interview With Animal Wrangler Roberto Tiberti's son, Carlo Tiberti
House Of Wild Beasts: A Visit to the Home of Franco E. Prosperi
International Trailer
"THE MONDO TRADITION CONTINUES…Very possibly the most entertaining eco-horror film of them all."
Third Eye Cinema
"MONDO-STYLE SHOCK…A vivid reminder of a lost era of pure exploitation cinema."
Spectacular Optical
"A MIND-BLOWER…It goes for broke in that distinctly Italian over-the-top way."
Schlockmania.com
"PRIME EXPLOITATION…It goes for the throat and delivers pretty much exactly what it promises."
Rock! Shock! Pop!
"AMAZING…There's carnage and havoc and the kill scenes are exactly what you want from a movie about escaped zoo animals."
BleedingSkull.com
"STRAIGHT UP HORROR…Prosperi instills ecological and socio-political themes in a brutally violent Italian blood splatterer."
CoolAssCinema.com
Buy the Blu-ray
---