Woodlands Dark and Days Bewitched: A History of Folk Horror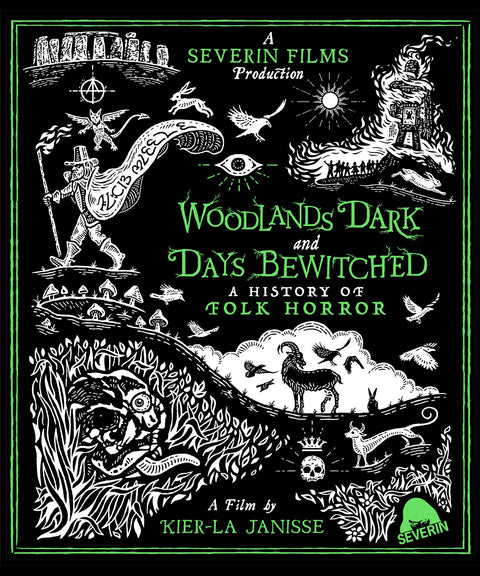 WOODLANDS DARK AND DAYS BEWITCHED
Kier-La Janisse, USA, 2021
192 mins | 1.85 | Color | Region Free
English and Portuguese with English subtitles
Stereo
HD Digital Master
WOODLANDS DARK AND DAYS BEWITCHED explores the folk horror phenomenon and its culturally specific manifestations in international horror, from its first wave in the 1970s to today.
Extras:
Video Introduction By Writer/Director/Producer Kier-La Janisse (9 mins)
Animating Folk Horror — A Conversation with Ashley Thorpe (12 mins)
Animator Ashley Thorpe discusses his processes and inspirations for the animated sequences he created for the film.
Outtake: What is Folk Horror? (2 mins)
Expanded definitions of folk horror cut from the film's introductory sequence.
Outtake: Harvest Hymns — The Sounds and Signals of Folk Horror (22 mins)
Historians and Composers—including Marc Wilkinson, John Cameron, Jim Williams, Pentagram Home Video and more—weigh in on the sounds of folk horror from trad to electronica.
Outtake: Terra Assombrada — Expressions of Folk Horror in Brazil (7 mins)
Filmmaker Dennison Ramalho and Scholars Carlos Primati and Laura Loguercio Cánepa discuss the impact of Brazilian folk literature and songs on folk horror.
Folk Poetry (5 mins)
WITCHFINDER GENERAL star Ian Ogilvy and BLOOD ON SATAN'S CLAW's Linda Hayden recite classic folk poems set to Super 8 footage.
Buy the Blu-ray
---